Operation Christmas Child
Sunday, November 11, 2018, 9:30 AM - 11:59 AM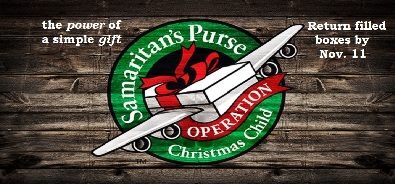 Return your filled boxes today!
More than a Shoe Box!...
God can use you to help change a child's eternity.
Each shoebox gift you pack gives churches throughout the world an opportunity to share the Gospel with those they might not otherwise meet.
Remember the $9 donation per shoebox gift is critical to provide for shipping and other ministry expenses.