"Equipping women to glorify God by loving Him, loving others, and leaving a fruitful legacy."

The heart of this ministry is to reach out and connect women with Jesus Christ and with one another thru studying God's Word , praying for one another, encouraging one another, and serving in areas of need using our God given gifts.
Women of Grace Bible Studies - Weekly studies offered in the Fall and Winter/ Spring months.
WomenShare - Women coming together for food, fellowship, and spiritual encouragement as one of our ladies shares her spiritual journey in the setting of someone's home.
Girlfriends of Grace - Casual, fun get-togethers providing opportunities to develop "girlfriend" relationships that encourage and support one another.
GraceFull Stitchers - Providing hands on projects that meet needs for our local and foreign mission outreaches.
Celebration of Christmas Open House - Festive time of fellowship as we gather to enjoy the "Reason for the Season."
Women's Retreat - A welcome time of spiritual and physical refreshment at beautiful Camp Elim, Woodland Park, CO held in the spring of each year.
For more information contact Kelly Moore
______________________________________________________________________________________
Upcoming Women's Ministry Events:
(click on event name for more information)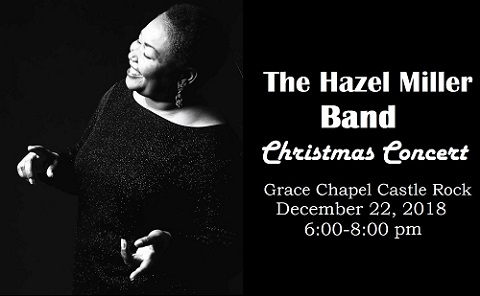 Saturday, December 22, 2018, 6:00 PM - 8:00 PM
Hazel Miller returns to Grace Chapel Castle Rock! Free concert! The Hazel Miller Band has toured North America, Europe, Far East, Middle East and Central America. Always led by Hazel and her powerful voice, this audience favorite...