Senior Pastor - Dr. Harlan Betz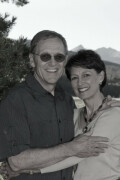 Harlan grew up on a farm northwest of Ladora, Iowa. It was there, through the influence of his parents and his older brother, that he came to realize his need for Jesus Christ, and at the age of seven he placed his faith in Christ for forgiveness of sins and for eternal life. Harlan began preaching when he was in college, and he has served in the pastorate ever since graduating from Dallas Theological Seminary.
Harlan's partner in life and ministry is his wife, Sharon. She has served in several different ministry areas, but has a special heart for women's ministry. Her passion is to help women develop an intimate relationship with God and to help women connect and minister to one another. She also loves to open her home in hospitality, play tennis, hike, and work on calligraphy projects. Sharon and Harlan have two married children and eight grandchildren. Their son, Josh, is married to Jill and lives in Cypress, Texas, with their five children - Madison, Noah, Micah, Kayna and Elizabeth. Their daughter, Sarah, is married to Mark Loeffler and lives in Murrieta, California with their three boys - Luke, Ben, and Sam.
Harlan enjoys being outdoors, he enjoys hunting, and he enjoys playing tennis and golf. Harlan has a great love for the Lord and a genuine love for people. Harlan's passion is to see lives transformed into conformity with Christ through the teaching of the Scriptures. He finds great delight in studying the Word, putting it into practice, and sharing its truths with others. He is well known for his expository preaching and his Bible teaching. His teaching is personal, practical, motivational, enthusiastic, and life-changing!
Grace Chapel Elders:
Staff:
Mr Bill has a BA in Youth Ministry, has been ordained and has been doing student ministry since 1984! He's been married to his girlfriend Jean since 1991 and they have a son, Drew, and a daughter, Jessica. Most of all, Mr Bill loves to laugh, to be active and to grow together with students in Knowing Jesus & Making Him Known!
http://mrbill6761.blogspot.com/ Twitter/Vimeo/YouTube/Google+ - mrbill6761

Matt Weesner - Music Worship Leader

Matt grew up in Iowa, playing piano in the church since he was young. He and his wife, Teresa, and family have lived in Colorado since 2004. Outside of Grace Chapel, he also works as a public radio music host and producer. And, Matt plays piano professionally, working around Colorado with The Hazel Miller Band, and in the "house band" on the nationally broadcast country music program "The Joey Canyon Show."
Patty Rink - Church Administrator
Patty Rink is the Church Administrator. She graduated from Bethany Bible College. Patty has a passion for apologetics, truth, and the doctrines of grace. She and her husband, Bill, have three children: Jessica, Victor, and Sarah.

Amy Wolfe - Children's Director
Amy is the Children's Director. She was born in Southern California. In 2009 she and her husband Mike decided it was time to leave California and Castle Rock quickly became their new home. She has a strong desire to teach young children about the Lord. She and Mike have two children: Samuel and Benjamin. Amy is also the Commander of Grace Chapel Castle Rock's Awana Program.
Deacons:
Norm Joslyn, Joe Smetana, Al Vanden Heuvel, Lou Kasunic, Jes Stovall, Darnell Boehm