Hazel Miller Band Christmas Concert
Saturday, December 22, 2018, 6:00 PM - 8:00 PM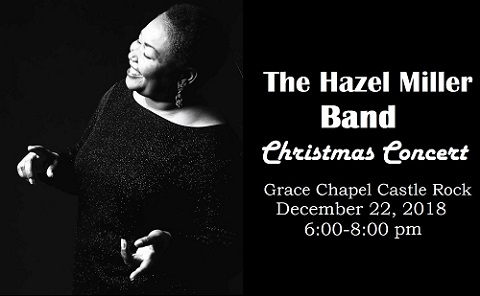 Location: Grace Chapel Castle Rock, 935 Evalena St, Castle Rock, CO US 80108
Hazel Miller returns to Grace Chapel Castle Rock! Free concert!
The Hazel Miller Band has toured North America, Europe, Far East, Middle East and Central America. Always led by Hazel and her powerful voice, this audience favorite has appeared in countless festivals, concerts and fundraisers to the delight of her loyal fans. Hazel is always backed by some of the finest musicians and vocalists in the world.
The band performs original, Jazz, Blues, R&B and Top 40 music.